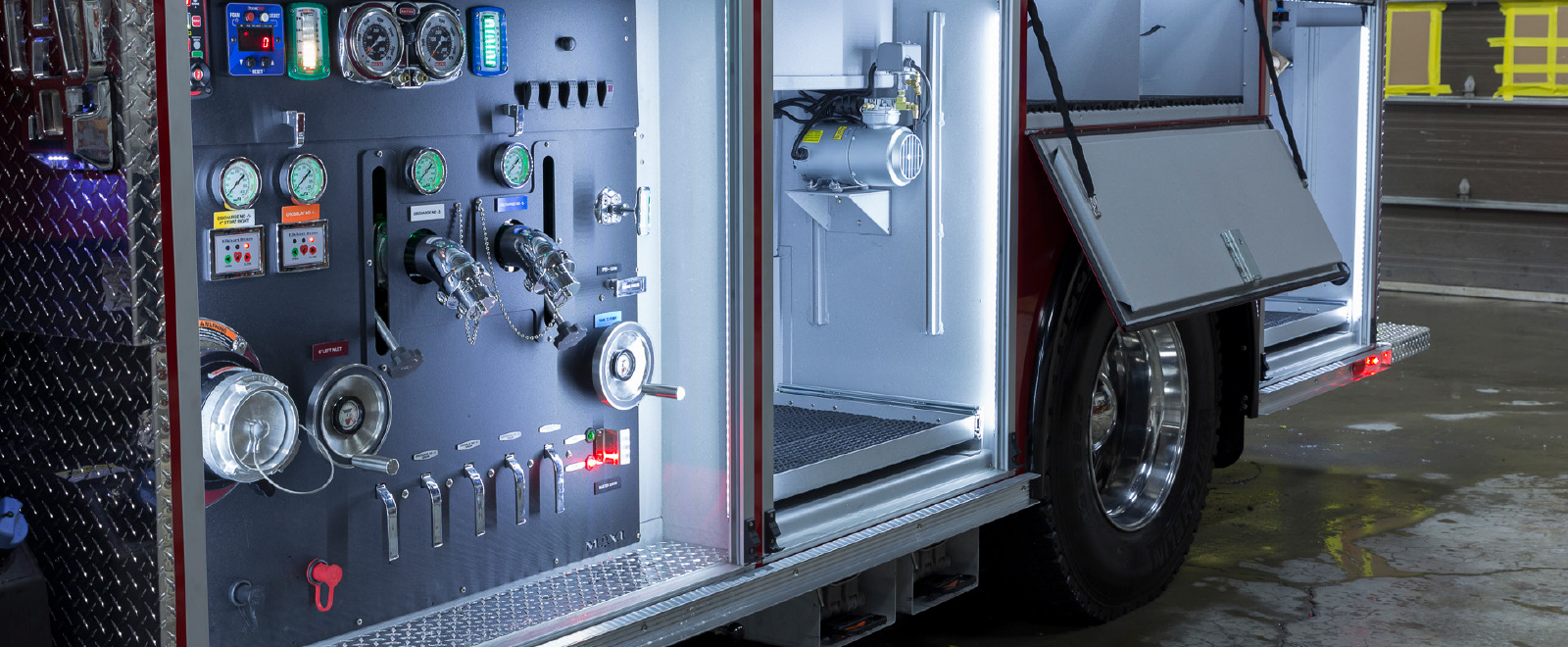 MAXIMETAL PIC* TANKERS (*PUMP-IN-COMPARTMENT)
In continuous production since 2015, the MAXIMETAL PIC pump configuration has become the best-in-class water delivery truck for the North American market. Our custom designed and fabricated pump system optimizes the water tank position to maximize weight distribution between front and rear axles.
Available in multiple configurations including single-rear-axle and tandem-axle models, and even a 4×4 2000 USG wildland-urban-interface tender.
Contact your local Pierce dealer today for more information.
PIC (Pump-in-Compartment) Tankers provide a versatile solution for maximizing water carrying capability on and affordable short-wheelbase commercial chassis.
Available in the following configurations with a variety of value-add options and upgrades to ensure you have the operational capability you need:
2000 USG single-axle with Pumper-Tanker or Tanker rating at 27' 1" overall-length
2400 USG single-axle with Tanker rating at 27' 8" overall-length
3000 USG tandem-axle with Pumper-Tanker or Tanker rating at 30' overall-length
3600 USG tandem-axle with Tanker rating at 32' overall-length
Options include:
PTO pumps up to 1250 US GPM
Several foam system options including exclusive Pierce Husky 3 Foam system
Hydraulic ladder and portable tank racks, including the Titan™
Thanks to MAXIMETAL's innovative design approach we can offer an unparalleled 130 cubic feet of compartment space on our PIC tankers. Some models will have even more!
MAXIMETAL TME* PUMPER (*TOP-MOUNT-ENCLOSED)
MAXIMETAL has been delivering fire apparatus recognized for their quality and value in Canada since 1983, and internationally since 2011. MAXIMETAL designs and builds Top-Mount Enclosed Pumpers for custom order.
TME (Top-Mount-Enclosed) Pumpers provide a versatile solution for carrying up to 6 firefighters in a winter-friendly, CMVSS/FMVSS approved crew-cab with enclosed top-mount pump controls.
The TME is available in with the following features:
Up to 1500 US GPM using either Split-Shaft stationary pumps Pump-in-Motion PTO
1000USG or 1500 USG firefighting body
Through-body ladder storage, external ladder storage or hydraulic ladder and/or portable tank racks
Several foam options including the exclusive Pierce Husky™ 3 Foam system
(DUE TO COMMERCIAL-CHASSIS AVAILABILITY CONSTRAINTS, PRODUCTION OF THE MAXI TME MODEL HAS BEEN TEMPORARILY SUSPENDED)